WordPress's flexibility is one of its best features. Using plugins, you can convert your WordPress site into a social network website. Building online communities or groups, user profiles, member directories, user registration/login, user role editing, and content restriction are all features provided by plugins. However, choosing a plugin solely based on its feature set can be a huge disadvantage in the long run. Because you will be using the plugin for an extended period of time, it is wise and efficient to choose a plugin that is simple to understand and use.
We've been working on a WordPress community website for quite some time. There are numerous listicles on the internet that only list the best WordPress plugins for developing a Social Networking or Online Community website. However, none of them examine a plugin from the standpoint of user experience. It all comes down to who has the most features. If creating usable software was that simple, businesses would only focus on increasing feature count. And Apple would not be the best provider of usable softwares today.
In this detailed study, we picked 3 tasks and tried to complete them in 6 WordPress Social Networking or Community plugins. In the UX term we will create a task flow of each task for each plugin. We will track how many clicks it takes in each plugin to complete the same task. This data will be quantifiably. We will see the number of clicks that it takes to do 3 tasks in each plugin.
The Tasks
Adding a Custom User Field to the User Profile
Adding a Custom Field to the Registration / Signup
Creating a User or Member Directory with Only Subscriber User Role
Social Networking or Membership Plugins
UsersWP
Profile Builder
ProfileGrid
PeepSo
RESULTS!
And the winner is…
Clicks to Add Custom User Field to the User Profile
Discover which plugin makes it the simplest to create a user field! We tested six popular WordPress plugins and ranked them according to the number of clicks required to complete this task.
And the winner is… BuddyPress, Profile Grid, and PeepSo, all tied for first place with 6 clicks!
Profile Builder comes in second with 7 clicks.
Ultimate Member is in third place, with 8 clicks.
UsersWP is in last place, with a whopping 14 clicks.
Here is a detailed Task Flow for each of the six plugins. We recorded the number of steps required to create a custom user field and add it to the user profile.
Clicks to Add Custom User Field to the Registration Form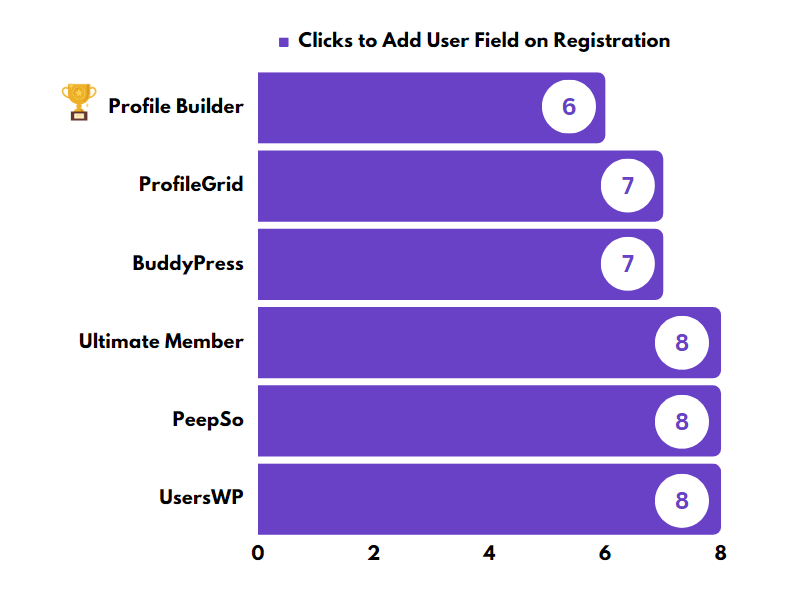 And the winner is… Profile Builder with a score of 6 clicks!
In second place, with 7 clicks, we have ProfileGrid & BuddyPress.
And in last place, with 8 clicks, we have Ultimate Member, PeepSo & UsersWP.
Screenshot of detailed task flow to add a custom field to registration or signup form.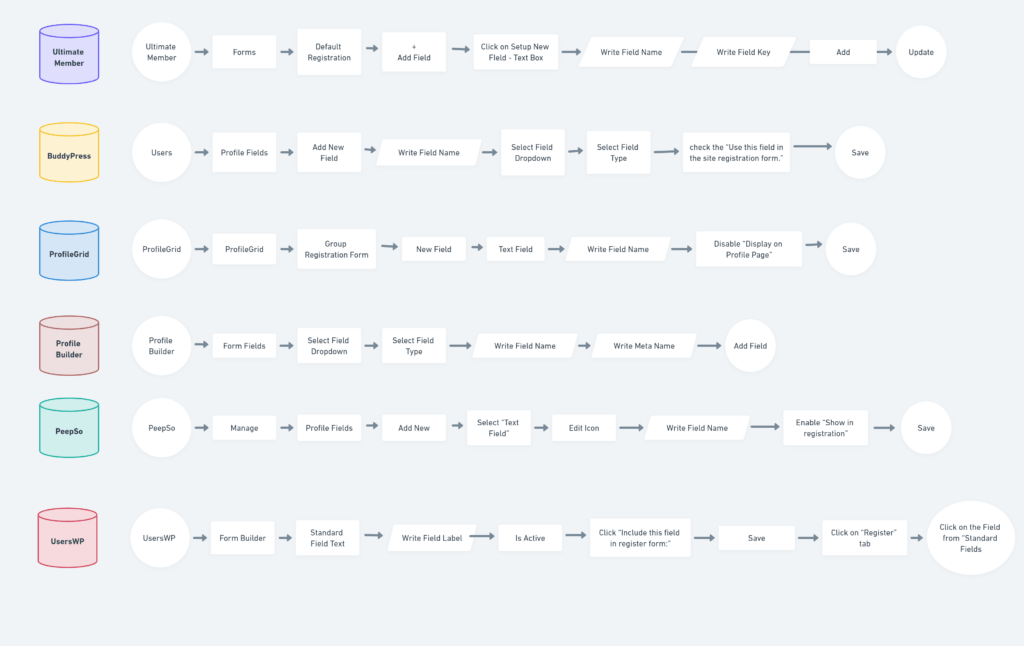 Clicks to Create a User Directory
Our final task was to create a User or Member Directory with only the Subscriber user role. We discovered that this feature is only available to Ultimate Member. To complete this task, the remaining 5 plugins require either code customization or a premium upgrade. As a result, Ultimate member is the undisputed winner in this category.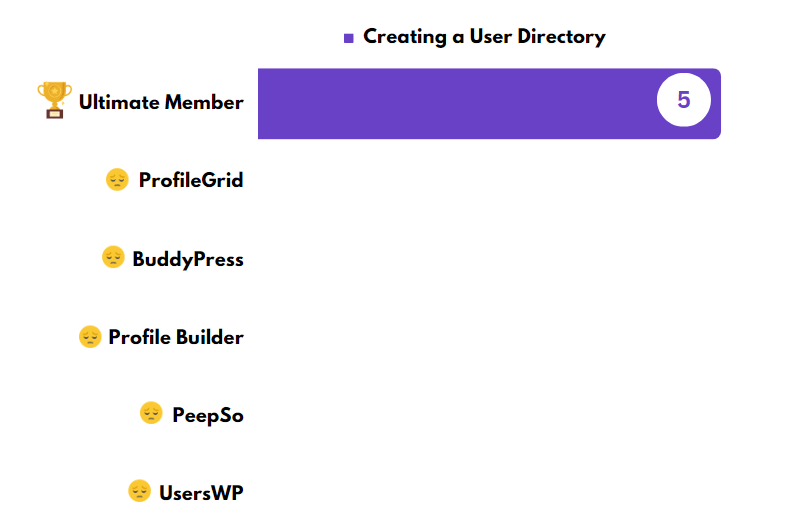 Detailed Task Flow of creating member directory using Ultimate member.

Analyzing the Results
We can easily see from the Task Flow and click data that BuddyPress, Profile Grid, and PeepSo require 7 clicks to complete the 1st task. And Profile Builder require 6 click to complete the 2nd task. And the third task has no competition; Ultimate member outperforms every plugin.
Let me play the role of the devil's advocate. In this case, the number of clicks is the incorrect metric to be concerned with. In fact, having too few clicks is more likely to be an indication of a lack of context.
Consider the following nuances to this specific user journey:
There are 2 aspect to consider,
How it Looks – Visual aspect of design
How it Works – Functional architecture of completing a task
---

"Designers think they should make something that's really unique. Actually Being unique is not that important, being familiar is quite comfortable. People like stuff that feels familiar."

— Peter Ramsey, Built for Mars Ltd

---

Source: https://www.youtube.com/watch?v=UeZnxjjtu2w (20:17)
Key Takeaways
1. Ultimate Members Field Adding Screen
When compared to other plugins, the Ultimate Member's Field Manager is the most user-friendly option for creating custom user fields. This is due to the fact that you do not have to go through multiple steps to create a user field. Any form, including the User Profile, Login, and Register forms, can have fields added to it.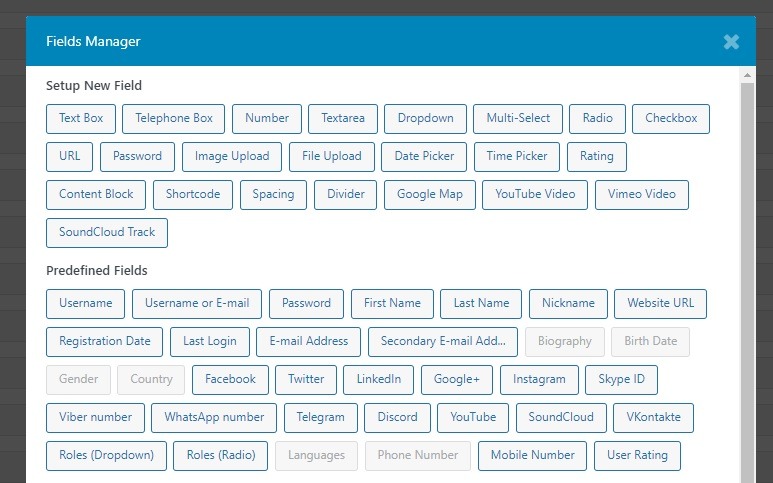 2. Setting Meta Key Field
When creating a field, only BuddyPress and Ultimate Member require users to add a field key. Other plugins automatically generate a random number and text for the field key, which can cause confusion when working with a developer.
3. BuddyPress Field Creation Options
BuddyPress's field creation user experience follows a simple mental model. All fields can be accessed and created through a single option panel located in the WordPress Dashboard, under "Users" > "Profile Fields".
4. Flexible No Code Customization
We discovered that only Ultimate Member provides greater flexibility, such as the ability to display specific user roles on the Member Directory, when creating a user or member directory. Most plugins lack this basic feature, which necessitates code modification or a premium upgrade.
Who is the Final Winner
When comparing two WordPress plugins in terms of user experience (UX), it is important to follow a systematic approach to ensure a fair and comprehensive evaluation. Keep in mind that UX is subjective.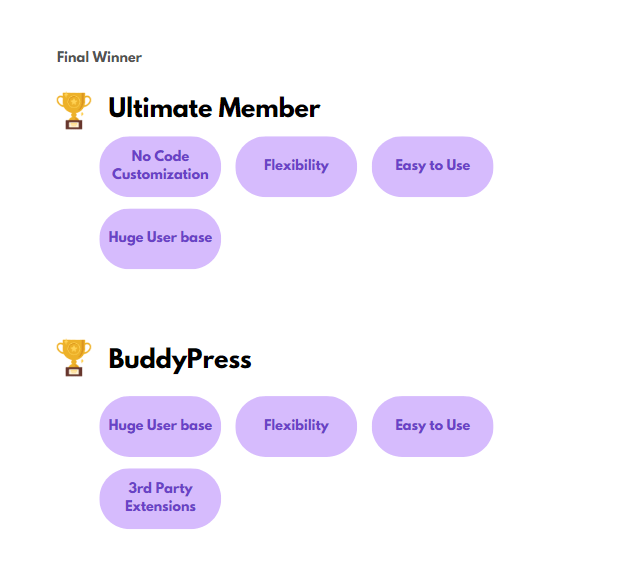 After considering all of the features, the layout, and how simple it is to use. We determined that Ultimate Member and BuddyPress are joint winners. Both of them provide enough flexibility to be considered among the best WordPress plugins for building a membership, community, or social networking website.